Guiding someone through a home purchase is about more than just getting a deal done.  It's about finding the right property at the right price for the home buyer.  Information helps with this and brokering has become even easier in today's world of ubiquitous information.  The best buyer or seller's agent is going to be the one who understands EVERYTHING about a home, understands how to best leverage technology and information sources, and can discern useful insights from the available data. Housequarters is that type of broker, doing it so well we give money back to buyers, and keep money in the pockets of sellers.  We're not about just doing deals.  We're about forming lifetime relationship with happy homeowners by making homeownership easy.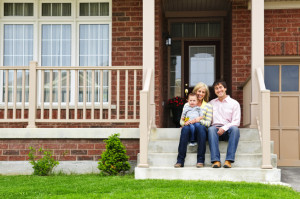 Better.
Housequarters provides better information and better insights on a home since we are experts in all facets properties.  Our team includes more than just real estate agents.  These same people are often also licensed insurance agents and contractors, and we have an extensive network of partners who we have specifically chosen because they understand how their special skills fit into the whole process, they are true experts, and put everything in its proper context.  Our team can offer you the complete picture, delivering even more value than the traditional agent.
Specifically about the properties, we are constantly discovering and adding better information including, actual cost estimate calculators for properties and how much it will cost on a monthly basis to actually live there.  Or even basic insights into what the overall market in the town you are targeting looks like.  The best information will result in the best decisions.
Specific to the process, we lay out the major steps in the home buying or selling process in a very clear, easy to follow format.  Fewer surprises, more transparency, all managed from a simple, online dashboard.
Less Expensive.
Simple.  We leverage technology tools and our expertise to charge less for our brokering services.  We are not trying to maximize how much we make on a deal and then you will never hear from us again.  We want to be your homeownership partner FOREVER!
To that end, we only keep 1.5% of a transaction price when we act as your Buyers Agent, turning anything we receive over that amount into a credit you can use to make other purchases for your new home through Housequarters. (Maybe other services you need for your home purchase, or some handyman work before you move in for example).
For sellers, we only charge 3.75% commission.  The best part is we can actually advise you and help you with any potential improvements or work you might need to do in advance to maximize your sale price, helping you keep more in your pocket along the way.
Easier.
We are the only comprehensive partner to help make homeownership easier, not matter if you are buying, selling, or owning.  We look at every decision related to your home with a macro perspective, and make buying or selling a home as simple as possible, helping you achieve the best overall results.
Our Buyer and Seller dashboards allow you to understand the entire process, and work with our trusted partners for everything you need in the process.  Need a mortgage, insurance, lawyer, home inspector, mover, handyman, or even just a home cleaner to spruce things up before an open house?  We offer all of those services in one, central, efficient place.
So Massachusetts buyers and sellers.  The question is, why have you NOT hired Housequarters?!? Contact Us Today!