Three years ago, Gabri (along with her dog Owen) decided it was time to plant some roots and buy a home.  This was her first home purchase, so she did not really know where to start, how it all works, who to ask for what, and just what was involved with becoming a homeowner.  This is where Housequarters came in.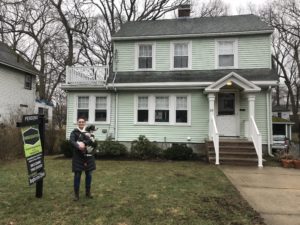 From the first day, Gabri had a dedicated home professional from Housequarters to work with on every step of the process.  From identifying geographies and types of properties, to understanding her tolerance for undertaking projects, budgets now and in the future and willingness to put in some elbow grease, the Housequarters team helped her identify a great neighborhood, and a home that needed a little bit of work.  She negotiated a great price, and Housequarters helped with everything from inspections, to lawyers, lenders, moving, and even changing the locks.
Soon after, we helped Gabri develop a master plan for the home of what she wanted it to look like to be "perfect".  Then it was off to the races, prioritizing pieces of the master plan to tackle over time.  We even helped her identify which projects or parts of project she might want to do on her own!
Over the next 2 years, Gabri tackled everything big and small, starting with a grand, new deck, and progressing to a new kitchen, new baths, and even transforming her basement into a welcoming space.  She even took advantage of our Virtual Handyman service to help guide her through installing marble tile in her power room.  She now lives in the house she had envisioned when she purchased it two years ago.
Also over those two years, here life changed.  She got married, got a new job, and together with her husband started to realize maybe they wanted to move closer to family.  This is when she decided to sell, and embark on finding the next property.  Housequarters listed the property, and within 2 days had top offers and was under agreement.  In addition, the team which brings the knowledge of a licensed sales associate, contractor, insurance agent and finance professional, all in one, is helping them on their search for a new home, bound to be as spectacular as the one they are leaving behind.
As Gabri found out, working with a Smarter Real Estate Company, definitely helps you become a Smarter Homeowner.
[supsystic-gallery id=28 position=center]