Every so often we encounter situations where our, though no fault of their own, customers encounter a little tough luck. Over this past summer, we had a few, and thought we would share them.

A random wind storm came through the North Shore one Saturday in July, literally during the 5 minutes the owner was in the shower, and this is what he came out to see: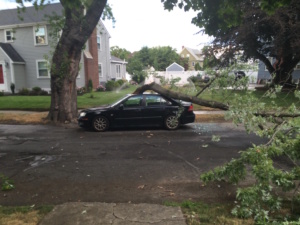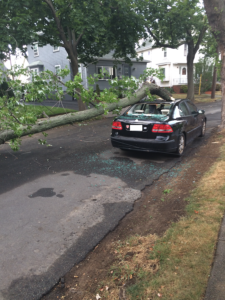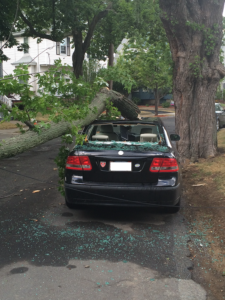 Two lessons to consider here. 1. Make sure you have the right insurance policy.  Housequarters handles the insurance for this homeowner, and bulks his auto with it for even better savings, so even though the car was totaled, he got a fair value in return.  2. Make sure to keep large trees properly pruned, and also if it is getting toward the end of its life, think about taking it down.  Judging by the look of the branch, this one might be seeing its last days.
Only about a year ago a brand new sink was installed in this bathroom.  One morning, the homeowner's son was brushing his teeth, and accidentally dropped an empty glass on the edge of the sink, and this is what happens.  All in one, big, chunk.  No matter how great the quality of a product is, sometimes defect happen, and this is a prime sign of one.  Our team went in and replaced the basin, and now they are back, good as new.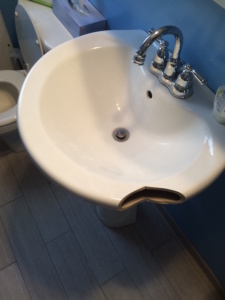 Save